4/14/05 - 4/17/05 - Sun N Fun
This was my first trip to Sun N Fun, so I didn't know quite what to expect. I naturally compared it to Oshkosh, which is noticeably bigger in just about every way, but SnF was nice in it's own way.
I also had different goals than I have for the past two trips to Oshkosh. I am trying to finish up my plane. I've already made a lot of decisions that I don't have to worry about anymore. My engine is done, and my interior is on it's way, so I was able to concentrate more on "finishing" stuff.
Another RV-6A that I totally loved was one built by Mark Phillips. His email is (fiveonepw at aol dot com). He gave me the tour of the plane, including his secrets on making a nicely fitting spinner, cool wingtips with no screws, and a host of other smaller items.
He has a Catto Prop, which is what I am planning to install as well. His panel is somewhat unconventional, using two PDAs. This is a great looking plane, so naturally I took a mess of pictures.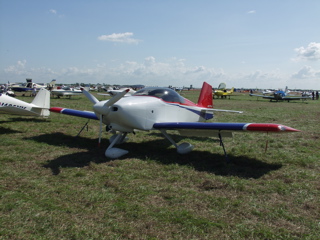 One thing I have noticed after attending a bunch of fly-ins is that you meet a lot of guys who built and flew their planes without the benefit of the internet. You can learn a whole lot by just walking up and asking about their plane. I met some great guys who were more than willing to share their "special modifications" with me.
Here are some random pictures of planes I saw: